F/D DAY BUS TOUR AKROTIRI + OIA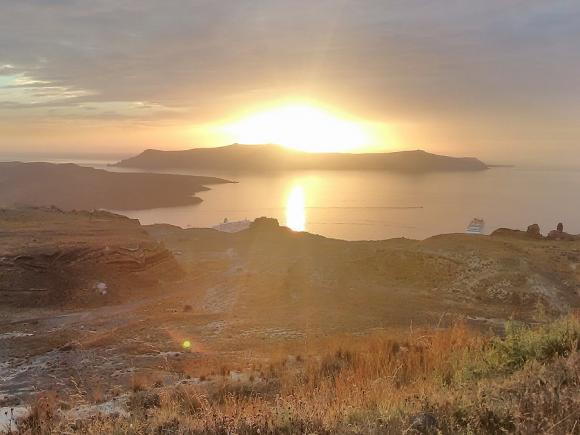 Description
Our professional and well experienced guide will welcome you on the bus at the time of the pick-up, either from your hotel or the cable car station in Fira town. We will start our excursion by driving through the traditional village of Pyrgos, the most preserved medieval village of the island at the foot of Mt Profitis Ilias, where you will be able to admire its blue domed churches. We will head towards Mt Profitis Ilias, Santorini´s highest pick (565m), named after the Monastery with the same name which is at its top. In earlier times it possessed considerable wealth; it even had its own ship which conducted trade for the benefit of the monastery. From this vantage point you will have an amazing panoramic view of the entire island, shaped like a half moon, with its black sandy beaches, its vineyards mostly in its interior, the neighbor island of Thirassia and the volcano as well as nearby islands such as Ios where Homer, the great epic poet, is said to be buried. Make sure you have your camera at hand to capture amazing panoramic pictures.
Afterwards, and in order to get to Akrotiri, we will head south and drive through Megalohori, one of the most picturesque villages on the island. Home to historical mansions, old traditional houses, pirate hideaways and vineyards, it has a history of merchants and wealthy land barons exporting Vinsanto wine that the island still produces.
The village of Akrotiri and its prehistoric site will be waiting for you for your great delight. There you will be able to see and visit the excavations of the best preserved of all the prehistoric settlements discovered in the Aegean, famous for the abundance of finds brought to light from the ruins of the Late Minoan town which was buried under thick deposits of volcanic material produced by a massive eruption in the 17th or 16th century BC. This was one of the most violent eruptions known in History! Enjoy walking through the street of this "prehistoric Pompeii", and discover the great remains of an advanced and wealthy civilization. You will be amazed by the quality of the town´s planning, architecture and painting as they show that the Santorinians of that period were superb builders, engineers, masons and artists! It will be, indeed, a visit you will never forget, really one of a kind!
Before leaving the village of Akrotiri we will make a short stop so that you can take photos of the breathtaking view of the Caldera and the volcano islands from a different angle!
In order to head towards our last stop, the traditional village of Oia, the northernmost point of the island, which is considered the shining star of Santorini, we will drive north passing the villages of Firostefani, a narrow settlement near Fira, built along the rim of the Caldera with a superb view on the Volcano, and Imerovigli, positioned at the centre and highest point of the Caldera rim, which in earlier times would allow its sentinels to have a visual command of the whole area, enabling them to signal warnings to the population when pirates sailed into view. When we finally arrive in Oia, you will instantly fall under the charm of its romantic and picturesque atmosphere; walking through its marbled narrow streets you will find the typical blue domed churches from the postcards, of such singular beauty, and a great many troglodyte houses, carved out of the cliffside, many two-storey captains´ houses, built at the highest part of the village, being a reflection of Oia´s past prosperity. There you will have some free time for coffee and/or shopping. Furthermore, you will see the most beautiful and renowned sunset in the world from what remains of its castle.
After the magnificent sunset in Oia, and with your head full of these magical moments, we will slowly return to your hotel or to Fira town.


What is Included
Pick up & drop-off at your Santorini Hotel or Fira town (Cruise port)
Luxury Bus or Mini Van (Fully airconditioned)
6-Hour private tour in Santorini led by a professional and expeienced guide (English -Spanish -Portuguese)
All taxes.
Entrance fees at Akrotiri Archaeological Site (12€ per person)

Additional Information
Tour available from April until October.
The pick-up time for the tour will be scheduled prior to going and will vary according to sunset times from April to October. Please note:
Sunset times: April: 19h/19h30; May: 20h/20h30; June and July: 20h30; August: 20h/20h30; September: 19h/19h30; October: 17h20/ 19h ***
*** Important notice: Due to the fact that Daylight Saving Time ends on October 26, clocks will turn back 1h.
Duration: 6h.
Bring comfortable shoes, a small bottle of water, and a camera to take amazing pictures.
In case of Shorex (passengers coming from a cruise ship) it is highly possible that you find a long queue at the cable car to go up to Fira town. If you wish to avoid this situation, it is possible to book a private tender from the Old Port of Fira to Athinios Port. Please contact us for more information.