Sunset Panoramic Cruise of the Caldera - Volcano & Hot Springs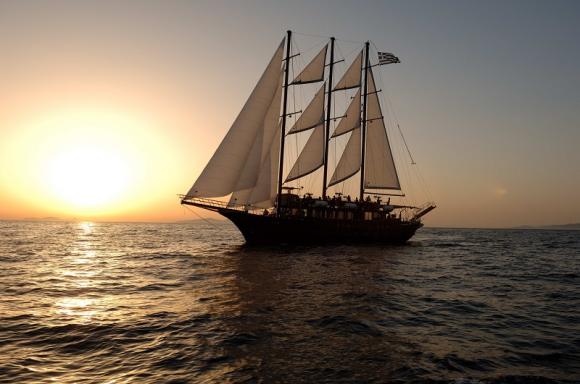 Duration: 6
Amount: 70.00 € Child: 35.00 €
Description
The excursion starts from the meeting point of your village, where a bus will pick you up and will drive you to Athinios port for embarkation!
The first stop of your adventure is the volcano of Santorini in Nea Kameni Island, where you will have the opportunity to climb on the top of the volcano, see and take photos of the active crater and walk on its rims which is a unique experience!
The next destination is Palia Kameni where you will dive and swim in the hot springs created by the underwater energy of the volcano!
Sailing above the underwater craters from Palia Kameni to Thirasia Island, the boat will anchor close to the island and there you will have the chance to enjoy a romantic dinner on board, along with Santorini's famous wines.
Full dinner is served!!
Our menu includes:
pork rolls
chicken rolls
rise,baked potatoes
Greek salad
tzatziki (cucumber + yogurt + garlic)
bread
seasonal fruit
free local wine during buffet!
All Fresh!!! All Cooked on Board!!!! Enjoy the endless blue in the famous Caldera of Santorini and the picturesque villages on top! In the north cape of Santorini you will admire the magical view of Oia village with its small famous white houses!
The end of the excursion comes on sunset time. The boat sets sails and the sun dives to the sea. This is the most unforgettable experience. Your trip in Santorini in this sanctuary of romance is going to be in your memories and your hearts forever!
Additional Information

Tour available from May until October, on board of a wooden traditional boat
The pick-up time for the cruise will be scheduled prior to going and will vary according to sunset times from May to October
Duration: 6h
Dinner is served along with wine on board
Bring comfortable shoes, a hat, sun cream and a towel, and don´t forget your camera to take amazing pictures
After the sunset the temperature can drop significantly, thus we recommend you take a jacket or a cardigan with you in case of a sunset cruise
When we stop for a swim at the Hot Springs, it is important for you to know that the boat will be anchored where the depth varies from 8 to 10 m, at a reasonable distance from the coast, where the water is warmer. Bearing that in mind, we advise you to use caution when crossing to the Hot Springs